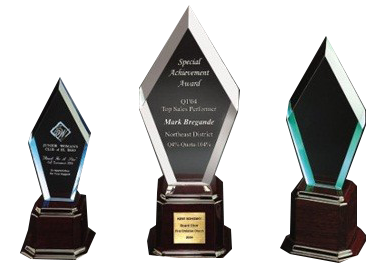 Employees are the driving force for your business, they are the linchpin. While for solo entrepreneurs, success and profits may be a reason enough to enable them to keep working hard, for corporate business, it may be difficult for employees to feel valued and recognized by their paycheck alone. Lack of appreciation for employees by management is considered one of the biggest complaints of workers. If you want to leave a lasting impression on your employees, you need to appreciate their excellent work. Corporate trophies are a great way to encourage and motivate your employees. Here are five reasons corporate plaques and awards motivate employees: 
Power of Recognition 
In personal relationships, in interaction with strangers, and in professional relationships, the power of recognition and appreciation is inherent. When someone does something good to you, you say, "Thank you!" or offer physical acknowledgment. When you open the door for someone and say, "You're Welcome!" they feel recognized. In the workplace, the same power of appreciation is needed. Employees want to have a feeling that their efforts are noticed. Offering employees something like a trophy for their accomplishments shows that you recognize their effort. 
Builds Loyalty  
Experiencing employee turnover can be costly and frustrating for employers. Recognizing your workers with awards can reduce employee turnover. Awards help cement your relationship with the employees. They help create a stronger connection, something that builds employee loyalty. The employees know that their work has been seen.
A Lasting Impression  
Awards are a status symbol, they remind employees to take pride in their work and captivate the drive to keep working hard. Placed on desks or displayed on shelves, the awards give workers an extra boost when they are seeking motivation. They continually remind employees of their appreciation by the employer or management in a company.  
Sense of Teamwork 
In some companies, there is a strong divide occurring between executives and employees. When executives receive all the credit, it leaves employees feeling disposable. Trophies help in bridging this gap and reflect that everyone in a company is very vital for the success of the business. Recognition from the higher-ups allows employees to feel they are part of the team.  
Greater Employee Satisfaction 
Plaques and awards can foster a positive work environment. Having tangible recognition allows employees to love their job more. They develop a sense of being valuable assets to the company. Rewarding employees with trophies makes them happy with their jobs, they are more productive. Productivity feeds back into the satisfaction of employees. They are able to see that what they have accomplished is being noticed by the employer or management. This way, they take a sense of pride in the work they do. 
When employees are making strides in their work and going the extra mile to deliver excellent results, it makes sense to reward them. Corporate awards build motivation and enhance productivity. Your employees will continue working hard because they feel that they are honored, valued, and recognized.  Your company is able to enhance its production, customer care, sales, and growth. It builds a sense of cohesion and teamwork and allows employees to deliver excellent results.