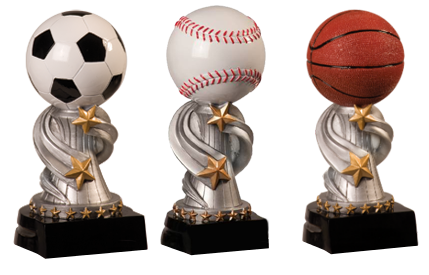 When shopping for awards for your sports event, you need to decide the number of awards you will be giving out. You also want to think of the reason or purpose for the award. You will find various awards – whether for women, men, children, club managers, or teams. If you aren't sure of what you want or you're worried you could leave someone out, these tips can help you pick the right sports awards for your event.  
Team Awards  
Every sports, tournament, or league organizer needs to have a good-looking trophy to present to the team captain of the winning team. A gleaming nickel-plated cup can make a good choice for the champions. There are also contemporary glass trophies that you can present to the captain to honor the achievements of the team. Team awards may be offered to runners-up as well as category winners. The overall victors can also receive an award. A trophy may be given to a team that shows the most sportsmanship.  
Individual Awards  
When you recognize an individual's prowess in sports – whether football, basketball, baseball, volleyball, hockey, handball, or other sport – it offers a great way of motivating players. Recognition isn't just about patting the best player on the back. You need to offer an award that can create a memorable experience. You can have a trophy for the top goal scorer of a tournament or league. You can also have trophies for the woman and man of the match. These are the players who make the biggest impact during a single match.  
An award for player of the tournament or year is a hard-fought one. The winner needs to have an elegant cup or trophy to take home with him or her. The best keeper in a tournament or league can also be awarded to ensure that goalies have received the appreciation they need. Other individuals who may receive trophies are referees and the most improved players.    
Fantasy Awards 
Trophies and awards are not just designed for active sportsmen and women, fantasy team managers can also be rewarded. League or sport event organizers can present trophies to the manager of the month, highest points scorers of the week, or the title winners. There are various fantasy awards that can be given out to keep the spirit of sportsmanship alive.    
When selecting awards for tournaments and leagues, you need to look at what impresses people most. There are awards made of marble, wood, glass, resin, silverware, and other materials. You may choose a trophy that has a contemporary style or something traditional. Receiving an award is an experience, and the only way you can make it is unforgettable is to have high-quality award medals. They will create a sense of championship and remain a symbol of excellence in sports.