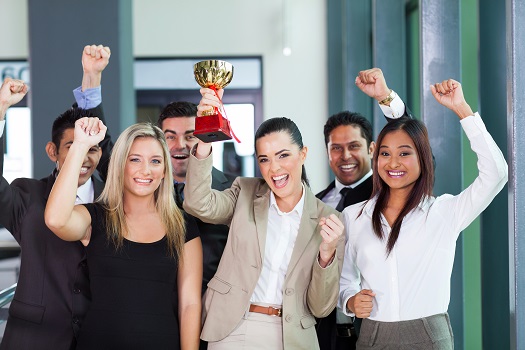 Giving out corporate plaques and other awards is a great way to show employees they are appreciated. When you give them out, be as specific as possible. Your employees should be given awards that speak to their accomplishments. Here are six common corporate awards to consider giving out to your employees.
1. Best Team Player
You can't expect your company to succeed unless everyone on your team can work in harmony. Pay attention to who on your team is best at managing conflicts and working for the common good of the company. It's also important to remember the best team players don't announce themselves as such. Instead, they'll be focused on keeping their heads down and working through whatever task they need to.
2. Best New Employee
Not everyone adapts to a new work environment. However, you can sometimes find employees who fit in seamlessly to your workplace. These aren't people who say they know everything and refuse to accept help. They'll be enthusiastic about all the learning and growth opportunities they have from working for you.
3. Most Improved
Progress is a crucial thing to consider in the workplace. You shouldn't judge people solely on where they started or where they are now. You should consider what sort of positive progress each of your employees has been making. The person you choose for this award might not be at the top of the corporate ladder, but he or she should show the necessary potential. It can greatly improve morale for new employees to know they are being accepted among their colleagues.
4. Friendliest Employee
You should recognize the people who make your work environment such a pleasure to be in. This award should go to a person who lights up a room. Think about who you look forward to seeing the most every morning. Hopefully, you'll have a very extensive list to narrow down your choice from.
5. Best Salesperson
If your business relies on sales, then it only makes sense to recognize the employee who gives you the best numbers. It shouldn't be one single person who's holding the entire team together, of course. Should it be necessary, you might ask the individual to take on a leadership role to help the rest of your sales force get up to speed.
6. Hardest Worker
The best workers aren't always the smartest or most experienced. Often, they're the ones who are willing to put in the time and effort necessary to succeed. They'll stay focused on their work and make sure it's done properly. If someone in your office matches this description, you should recognize him or her with an award.
From corporate to military awards, Gold Medallion Awards can create custom trophies, plaques, glass and acrylic awards, and much more. For a free quote, call 858-279-4970 to speak with one of our friendly representatives