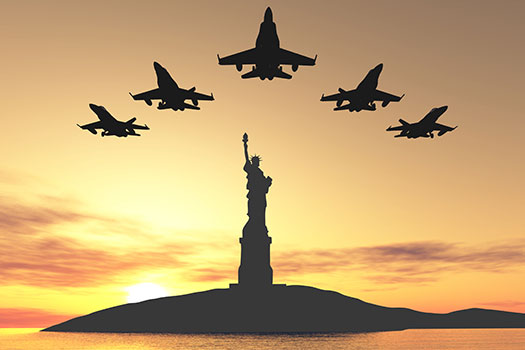 The awards, decorations, and badges bestowed upon members of the United States Armed Forces denote various factors about their service to their country. In some cases, military awards indicate participation in certain campaigns or during historic periods. In other cases, medals may be issued for skills, personal and unit achievements, or milestones reached. 

When reservists or active duty members retire or are discharged, the awards they receive are theirs to keep. Many choose to mount their awards and display them as special mementos of their service. When civilian family members and friends learn about the significance of each award, they get a better understanding about what service to the country really means. Here are seven common military plaques and awards issued to active duty members.

1. National Defense

This award is given to those who serve the U.S. in times of armed conflict. The current award criteria for this medal is the War on Terrorism, which started after the 9/11 attacks. The previous period was the Gulf War, which lasted from 1990 to 1995. Those who served during both periods get to put a bronze star on the ribbon part of the medal. 

2. Good Conduct

This personal award denotes service without disciplinary or judicial issues. In the past, many enlisted members of the Navy, Coast Guard, and Marine Corps did not get to wear this medal because it was issued after four years of service, which was the length of the typical term of service. These days, it is issued after three years, and subsequent awards are indicated by means of bronze stars. 

3. Overseas and Sea Service

Being deployed overseas for at least a year or serving aboard ships for periods of six months results in the issuance of ribbons and devices. Even the Army has a Sea Duty Ribbon, and the Air Force has an Expeditionary Service equivalent. 

4. Global War on Terrorism

Since 2011, this medal has been issued to members who participate in operations to counter the global threat of terrorism. The level of participation does not need to be direct. Members who provided support are also given this award. 

5. Southwest Asia Service

Quite a few American military units have been deployed to the Middle East since Operation Desert Shield in 1990, thus making this award very common. Reservists who deploy to the Middle East are considered to be on active duty when they receive this medal. 

6. Combat Action
Service members who come under fire and engage in combat with the enemy are issued this award, which consists of ribbons for the naval branches and for the Air Force. Army soldiers receive combat action badges. Due to the heightened level of combat operations around the world, issuance of this award has become common. 

7. Marksmanship
Proficiency at the rifle and pistol ranges is part of military life. Service members receive various ribbons, devices, and badges indicating their level of marksmanship.
There are a variety of options for awards that can be given to active military, including trophies, plaques, and acrylic and glass awards. Gold Medallion Awards can customize any award for any purpose. Get in touch with us today at 858-279-4970 for a free quote.