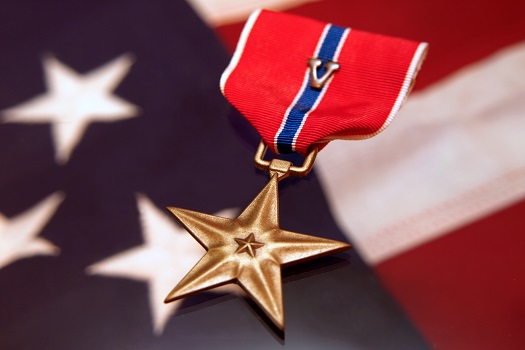 Napoleon Bonaparte, one of the greatest military strategists in history, once made an interesting remark about soldiers' motivation to excel on the battlefield and how it relates to military awards. He noted that a higher level of bravery was displayed by his troops whenever he announced a new award, which he described as "a bit of ribbon." 

While it's true that many military medals and awards are represented by ribbons, the deeper meaning behind Napoleon's quote is that military members know exactly what's at stake when they put in the effort to earn service awards. From a strictly practical point of view, military ribbons are essentially colorful pieces of embroidered cloth, but what they truly represent is the service member's dedication to excellence. Other types of awards include military plaques. San Diego has a large veteran population, and many of these individuals have received the awards described below.
Ribbons and Devices
Medals and awards can be represented by ribbons and special devices. Any initial service shorter than six months is considered TDY (Temporary Duty Assignment). In the case of service stars, which can be bronze or silver, the devices denote subsequent awards, campaigns, deployments, or battles. Let's say a sailor in the United States Navy wears a uniform with a Sea Service Deployment Ribbon and two bronze stars, which indicates he or she has been at sea at least 18 months (12 months beyond TDY) because each bronze star equals a deployment that is six months long. There are other devices and clasps, but stars are the most common.
Silver Stars
After four consecutive awards, a ribbon doesn't offer more space for additional stars, calling for the placement of a silver star instead. Silver stars are usually seen on the dress uniforms of military members who have been in the service for many years. They commonly appear on the Good Conduct Medal when members are approaching retirement from active or reserve duty. Silver stars are larger and shinier than their bronze counterparts, thus making them ideal for display in an awards case.
The Iraq Campaign Medal
The bronze and silver star devices for the Iraq Campaign Medal are worn and displayed differently. Let's say a radar technician in the Air Force was deployed during the first three campaigns of this protracted war, which started in 2003. This airman would be qualified to wear the Southwest Asia Medal with two bronze stars for the 18 months served, but his or her Iraq Campaign Medal will have three stars because each one denotes a separate phase of the war.
Unusual Service Stars
Three stars on the National Defense Service Medal would be highly unusual these days because such an arrangement indicates service during the Korean, Vietnam, Persian Gulf, and War on Terror periods of conflict. Multiple stars on a Purple Heart are unusual but worthy of great respect, since this would denote a service member wounded multiple and repeated times in combat. Stars on Presidential Unit Citation awards are a matter of being at the right place at the right time more than once.
Awards are an important way to recognize military service. Medals, ribbons, and stars are symbolic ways to honor the particular service and time served by members of the military. Gold Medallion Awards specializes in creating awards that honor special accomplishments. Whether you need a military plaque, sports trophy, or corporate award, Gold Medallion Awards is a San Diego trophy store you can trust for the highest level of service when you're looking to offer a tangible way to say thank you for service or achievement. Drop by or contact us today at 858-279-4970.