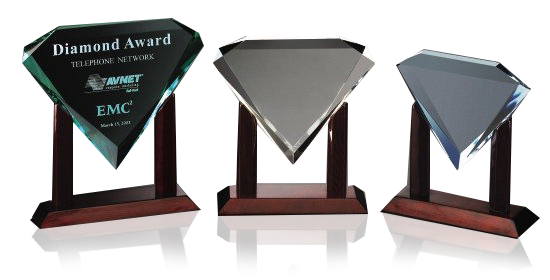 Acrylic recognition awards have maintained their popularity as long-lasting tokens for appreciating and recognizing your staff's hard work. The awards are designed and made using a material that resembles glass. The material is durable and stronger than glass, though. You may be surprised that the awards can last through accidental drops while being able to stand the test of time. You may have these awards kept in offices or homes intact for decades. They can also be moved unaffected between homes and offices. When you purchase acrylic awards for your workers, it gives them an unforgettable memento they will cherish always. If you are seeking a custom acrylic award, there are things you want to consider so that you pick the right one. 
Types of Employees' Acrylic Awards  
You will find just about any kind acrylic recognition awards to choose from whether it's a classic piece, a custom piece, or an ultra-glamorous piece. The pieces also come in different colors and designs depending on what's on offer or what you want custom-designed for your company. Acrylic awards come in the form of plaques, awards with stands, and stand-alone acrylic awards. Acrylic plaques have rectangular, flat shapes allowing them to be hung on walls easily.
Awards with stands come in different shapes on top from curved quarter-moon to angular shapes. The sturdy stands found on the base of the award makes it easier to hand off and hold during the presentation of the award or when you are showing people. The stand also offers the support needed when you want to place the awards on a desk. Stand-alone awards come in different sizes and shapes and they are stand-free. You can have a star shape, triangle shape, oval shape, or whichever shape you feel like to give the award a special touch.  
Occasions to Present Acrylic Awards 
In the workplace, there are many events that can be used as the building blocks for giving out the awards to employees who excel. Rewarding employees help increase loyalty with your employees. It helps improve the attitudes the staff have over the company, customers, and management. You can have acrylic plaques presented to recognize an employee of the month. You may also have a presentation of the acrylic plaque for an annual milestone made by an employee, for example, the most outstanding salesperson or the longest serving employee in the company who is retiring.  
Peer voting awards can be offered to high performing, disciplined, and excelling workers. You can have the employees nominate their fellow employees for an award based on the parameters provided. The employees will also vote for the winning employee who is awarded. Awarding an employee during a holiday party is another way to make them feel honored and valued.   
Ease of Customizability of the Awards 
Like glass, it is easy to engrave on acrylic. You can personalize the rewards with beautiful messages, the name of a business, or even the name of the award receiver. You can have the awards created in different patterns and colors. An employee will have a closer attachment to the award when she or he finds that their name has been engraved on the piece. It gives long-standing memories to the employees. There is the feeling that the reward is specific theirs and not for the general workforce or the team.  
Acrylic plaques are lightweight not as heavy as glass. This means they can easily be moved and retained. When left out in sunlight, acrylic awards maintain their shape and color so they may not suffer from exposure to elements like rain or sun. In addition, the material is scratch-resistant, and in the event scratches occur, they can be buffed out. 

With these tips, it helps you select appropriate acrylic awards for your workers. You will have something that makes the awarded employees feel the effort they have made is worth what they have been honored with.