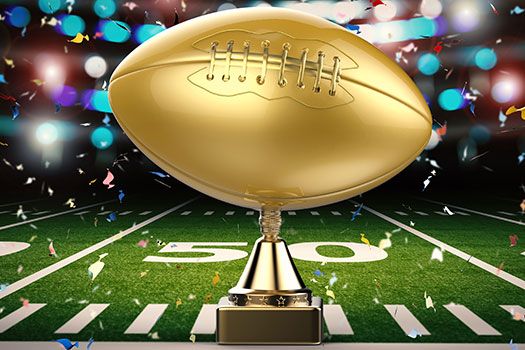 Motivation and recognition are two vital factors coaching staff use to motivate their teams and individual players. In the case of American football teams, awards for individual performance, team spirit, and tactical decisions made on the field can serve as motivational tools to inspire players and bring them closer together. With this in mind, here are five award ideas for football coaches and team managers to consider. 

1. Most Valuable Player
The Most Valuable Player (MVP) award is traditional in team sports, and it can be presented in various settings. Season and tournament MVP awards are the most coveted by competitive players, but they can also be presented monthly or after a crucial game. Of all football awards, the MVP award requires careful consideration based on statistics or unique performance, and it deserves a trophy more than a plaque or medal. To make things more interesting during a season, an elaborate trophy can be made and presented as a rotating motivational award. For example, the quarterback can hold it for one game and present it to the kicker the next game. 

2. Most Interceptions
When passes are intercepted, fans go wild and the team gets fired up. Interceptions are the easiest statistics to record because they are so memorable, and they should be rewarded accordingly. Trophies, medals, or plaques can be used, but a game ball should be added if the honored player made a game-winning interception. The ball should include the date of the game and signatures of all teammates. 

3. Spirit Award

Medals and plaques are commonly used for spirit awards, which recognize enthusiasm and dedication to the team. Although this is an individual award, it can be presented to more than one player, and it can also be used to recognize the efforts of parents, coaching staff, and other individuals who contributed to keeping the team active and together. Acrylic or glass awards are perfect when honoring this type of achievement.

4. Most Receptions
The best way to keep receivers sharp and competitive is to entice them with a nice trophy, plus a celebration such as dinner with fellow receivers' relatives at a local pizzeria. An award for most receptions can be presented as a medal, plaque, or trophy. Similar to a rotational MVP award, a medal can be presented to the player with the most receptions in a winning game. 

5. Best Coaching Decision
Team managers, players, and parents have the opportunity to discuss the most strategic and forward-thinking decision made by a coach during a game or season. Whenever possible, this award should be presented as a plaque engraved with a brief description of the coaching decision. Another idea is to present a departing coach with a nice plaque that expresses the appreciation of the team and parents.
From sports trophies to military awards, Gold Medallion Awards offers a wide array of options for recognizing greatness. Take a look at the options on our website, or give us a call at 858-279-4970 for a free quote.