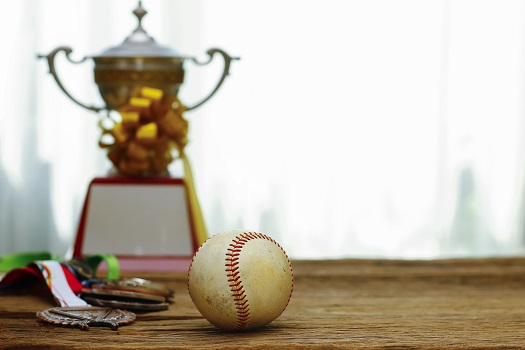 Achieving greatness while competing in a game known as America's pastime is the reason we play ball. While Major League Baseball features the highest rate of professional opportunities, the likelihood of going pro is slim. Baseball represents a sport for all levels of participation. From bar league competitions to little league starter kits, the sport keeps the fun going throughout the years. While possessing attributes of a fine ball player is something to be commemorated upon, some qualities a player possesses are often overlooked. Below are some of the best baseball achievement awards that can be given within the sport.
1. Taking One for the Team
The game of baseball centers around a lot of moving parts and always keeping your eye on the ball, which sometimes leads to competitors getting struck by a ball or bat. Award the player who sticks it out for the team. While bruises are temporary, the everlasting satisfaction that comes from receiving an award for taking a battering during competition will last a lifetime. This award can also become multipurpose with following orders. For example, no one likes to play right field due to the lack of action. For youngsters, the outfield can represent barren grounds that rarely see the ball come their way. Award the player who is willing to go wherever he or she is placed.
2. Best Team Player
While this award can be shaped into a few different requirement settings, its best served to those who respect the squad. The players who are consistently against the fence or out of the dugout cheering their teammates on. The players who offer up advice or pointers for those who are unsure of their capabilities. The players who go the extra mile to assume a leadership role and vocalize their support for one another. The best team player award can be cherished by all who play the game, and it represents a monument that goes far beyond the statistics.
3. Best Groundskeeper
The field of play represents a sanctuary that involves a lot of preparation. Base lines need to be sprayed, bases need to be seeded, grass needs to be cut, and dirt needs to be raked. Encourage your athletes by teaching them the upkeep required to make the game happen. Award those who show up hours before a game to set up the field. Encourage players to care for their home turf and return it to form after competition.
4. Best Sportsmanship
Games don't always end in victory, which is a learning process for the younger generation. In baseball, getting on a base 3 times out of 10 equates to hall-of-fame averages. You aren't going to win every competition, so teach your players to keep their heads held high in defeat. Award players who shake hands with the opposition, encourage others after striking out, or thank the umpire for his or her servicing of that day's competition. A little thank you goes a long way, and being recognized for sportsmanship is something that molds young minds into a maturity only the game can teach.
5. Parent Awards
Parents are there for the never-ending ride called little league. They wash uniforms, prepare team meals, travel to different ends of the globe, and support their children. Parents often have busy schedules, calling for their presence to be recognized. They ensure the team will have positions filled by bringing their children to games. They are there for the long trips that take many miles and wear and tear on their vehicles. Parents deserve some sort of recognition, such as awards or plaques, once the season has come to a close.
6. Humor Awards
Gearing an award to funny occasions or appearances can keep bar leagues exciting. Best handlebar mustache, best attire, and other such appearance awards can give the teammates a good laugh. You can also choose to commemorate funny instances. For example, maybe one of your players hits a foul ball that breaks a windshield or spills someone's drink. Create an award for accuracy with a target as the trophy. This is one award that will do wonders when it comes to enticing the laughter of all involved.
To make these awards memorable for your players and team, get in touch with Gold Medallion Awards. We have a variety of options ranging from wooden plaques to glass awards. Give us a call at 858-279-4970 for a free quote.